26 Jul 2022
Rolls-Royce Makes Strides in Hydrogen Aviation through Partnerships with easyJet and Hyundai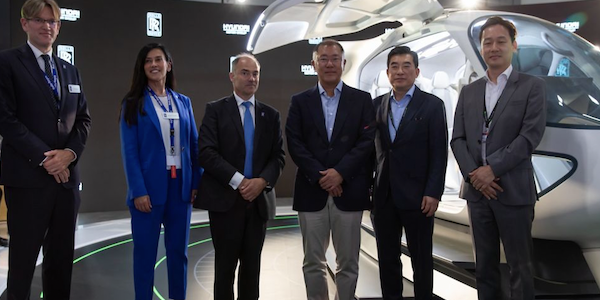 Rolls-Royce has been making strides in the hydrogen sphere as the aerospace giant has announced new partnerships with easyJet and Hyundai to accelerate the use of hydrogen in aviation.
The London-listed company announced on July 19 that it was joining efforts with low-budget European airline, easyJet to develop and test hydrogen combustion engine technology for aircrafts.
Rolls-Royce said the two companies would collaborate on a number of ground-based tests set to start this year.
The aim of the collaborative project, named H2ZERO, "is to demonstrate that hydrogen has the potential to power a range of aircraft from the mid-2030's onwards," Rolls-Royce stated.
On the same day, Hyundai and Rolls-Royce released a statement publicising an MoU between the two companies to work on using all-electric propulsion and hydrogen fuel cell technology to lead the way in the advanced air mobility market.
The partnership will leverage Rolls-Royce's aviation and certification capabilities and Hyundai Motor Group's hydrogen fuel cell technologies and industrialisation capability.
Both companies share a vision of leading the way in the AAM market delivering battery-electric and fuel cell electric solutions to the Urban Air Mobility (UAM) and Regional Air Mobility (RAM) markets and advancing sustainable aviation.
The Memorandum of Understanding (MOU) between Rolls-Royce and Hyundai Motor Group includes five strategic aims, including delivering a joint fuel-cell electric aircraft demonstration by 2025.
President of Hyundai Motor Group Jaiwon Shin, said: "We are pleased to partner with Rolls-Royce to draw upon their aviation and certification expertise to accelerate the development of hydrogen fuel-cell propulsion systems.
"Hyundai has successfully delivered hydrogen fuel cell systems to the global automotive market and is now exploring the feasibility of electric and hydrogen propulsion technologies for aerospace integration. We believe this to be the key technology to support the global aviation industry's goal to fly net zero carbon by 2050."
Image courtesy of Hyundai