26 Apr 2023
Low-Carbon Ammonia Shipped from Saudi Arabia to Japan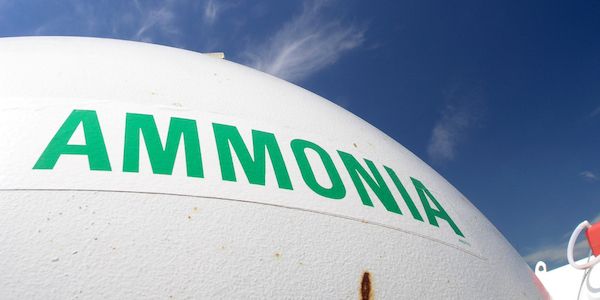 A first shipment of independently-certified low-carbon ammonia has been shipped from Saudi Arabia to Japan for use as fuel in power generation. The ammonia was produced by SABIC Agri-Nutrients (SABIC AN) with feedstock from Aramco, and sold by Aramco Trading Company to the Fuji Oil Company (FOC). Mitsui O.S.K. Lines (MOL) was tasked with shipping the liquid to Japan, then the low-carbon ammonia was transported to the Sodegaura Refinery for use in co-fired power generation, with technical support provided by Japan Oil Engineering Co (JOE).
The ammonia is categorised as low-carbon because carbon dioxide (CO2) from the associated manufacturing process was captured and utilised in downstream applications. Japan's Ministry of Economy, Trade and Industry has announced plans to increasingly harness ammonia as a fuel for power generation and for ship propulsion, as part of the country's 2050 decarbonisation goals.
Olivier Thorel, Aramco Senior Vice President of Chemicals, said: "This is another milestone that highlights the possibilities for low-carbon hydrogen and ammonia made from Aramco feedstock, with the potential to play a role in a lower-carbon future. Not only is low-carbon ammonia a means to transport lower-carbon hydrogen, it is an important energy source in its own right that can help decarbonise key sectors – including power generation for both utilities and industries. By dispatching this accredited low-carbon ammonia to Japan, we are helping chart a course for the development of this vital commodity."
Abdulrahman Shamsaddin, SABIC AN CEO, said it made a public commitment not only to become carbon neutral by 2050 but also to collaborate with customers to help them achieve their Net Zero emission targets. He said, "Customers in the energy, fertiliser and chemical sectors are looking for suppliers of lower-carbon hydrogen and ammonia. And we can meet their demand by leveraging our long-standing strengths across the value chain."
Shigeto Yamamoto, FOC Representative Director, President, said as Japan aims to achieve carbon neutrality by 2050, low-carbon ammonia is expected to be a next-generation fuel that can contribute to the reduction of CO2 emissions. He said, "In order to reduce CO2 emissions from our own operations, we have been working on co-firing ammonia, which is a by-product of the petroleum refining process, in the boiler at our Sodegaura Refinery, and we plan to burn low-carbon ammonia imported this time with the cooperation of our partners in the same boiler. We will continue these efforts to contribute to the construction of the ammonia supply chain."
Mohammed Al-Mulhim, Aramco Trading Company CEO, said the 'landmark' achievement is an example of collaboration across businesses within Aramco, SABIC, Aramco Trading and Japanese partners.
Toshiaki Tanaka, MOL Representative Director, Executive Vice President Executive Officer, said ammonia is expected to be in great demand as a next-generation, clean energy source. "By combining accumulated knowledge and proactively participating in a broad range of value chains, we hope to contribute to the decarbonisation of society," he said.