07 Mar 2023
Ideanomics Subsidiary US Hybrid, Mi-Jack to Develop Hydrogen-Powered Rubber Tire Gantry Crane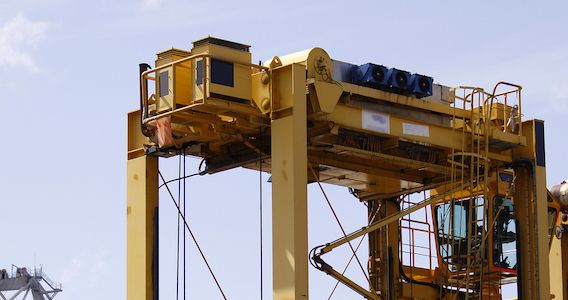 Ideanomics, a global company focused on accelerating the commercial adoption of zero-emission vehicles, announced on 6 March that its subsidiary US Hybrid has been selected by Mi-Jack to convert a rubber tire gantry (RTG) crane from fossil diesel to hydrogen-powered.
"For our exceptional engineers at US Hybrid, this is a dream project. They get to come up with a zero-emission way to power a very big and energy-intensive piece of machinery," said Macy Neshati, Chief Commercial Officer at Ideanomics. "I want to extend a heartfelt thanks to Mi-Jack for taking action to decarbonize gantry cranes and trusting US Hybrid as their partner to do it."
Under the terms of the agreement, US Hybrid is managing all procurement, engineering and design work relating to the hydrogen propulsion kit. The company will source a hydrogen fuel cell system from Hyundai Motor Corp and will locally manufacture core components, including hydrogen storage tanks and cooling systems.
All manufacturing, assembly and system testing will occur at US Hybrid's engineering facility in Torrance, California. Mi-Jack will install the hydrogen propulsion kit into the RTG crane at its Illinois facility, with US Hybrid providing all necessary engineering diagrams and on-site support.
"The new reality for intermodal terminals is achieving carbon neutrality. Offering hydrogen-powered RTG cranes is paramount for ensuring terminals meet their carbon neutrality goals without compromising on performance," said Aaron Newton, VP of Sales at Mi-Jack. "We look forward to collaborating with US Hybrid on bringing innovative hydrogen-powered solutions to the intermodal market."
RTG cranes are one of the largest, noisiest, heaviest polluting and hard-to-decarbonize pieces of equipment in ports and railyards. They operate 10-20 hours per day, continuously lifting shipping containers that can weigh nearly 80,000 pounds when fully loaded.
This job requires a lot of power, and most RTG cranes still rely on fossil fuels to meet this need. On average, an RTG crane burns 10 US gallons per hour. One gallon of diesel emits 22 pounds of CO2 into the atmosphere.
Hydrogen is a much better option for RTG cranes. Hydrogen fuel cells can be refilled fast, are proven to operate efficiently in extreme hot and cold weather and deliver the same or more power as diesel. Powered by hydrogen, RTG cranes can keep operating reliably with zero emissions.
US Hybrid has a strong, proven track record when it comes to decarbonizing port equipment and machinery, as well as other specialty vehicles. The company has strategic partnerships with International OEMs to convert new and existing ICE-powered port equipment to zero emission and is working to develop zero-emission buses and trucks.
Ideanomics views US Hybrid's expertise in designing fuel cell systems and electric power trains as a competitive advantage. and is committed to supporting the growth of US Hybrid. Ideanomics is solving the complexity of fleet electrification by bringing together high-performance electric vehicles, charging infrastructure, and financing solutions under one roof.
Press release by Ideanomics