Hydrogen Technology Expo North America Attracts Large Crowds in its First Year in Houston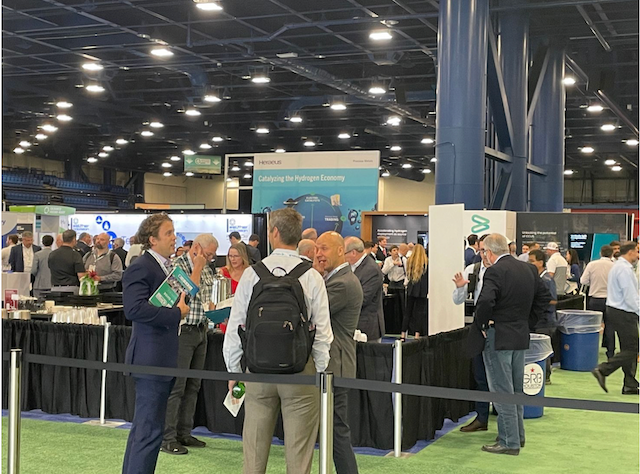 Hydrogen Technology Expo North America, co-located with Carbon Capture Technology Expo, which took place on June 14 and 15 in Houston, Texas, attracted around 3,000 attendees and 900 conference participants in its first year in the USA, a remarkable feat for a first-year event.
Among the eighty-five exhibitors were well-known names in the industry such as Baker Hughes, Air Liquide and BayoTech. At the exhibition, TFP Hydrogen Products launched a new range of highly efficient and cost-effective catalysts for use in Proton Exchange Membrane (PEM) water electrolysers.
The event organisers plan to expand the trade fair which will also be held in Houston next year.
Charlie Brandon, the event director, said: "We are planning to host 150 exhibitors and 5,000 attendees next year, following this year's incredible success. Considering it was the trade fair's first year in the US, we've had a fantastic turnout!"
According to a report by the Centre for Houston's Future released on May 23, Texas is poised to become an influential area for hydrogen technologies, making Houston an ideal place to host the event.
Mike Robinson, the CEO of Trans-Global Events, the company that organises the trade fairs, said: "When deciding where to host the exhibition, I immediately thought of Texas as it's known for its energy expertise and infrastructure."
As the share of renewables is expected to double by 2050, Houston's leading position is challenged. Without action, the city could lose up to 650k jobs, according to a report by the Houston Energy Transition Initiative presented at the conference by Jane Stricker, the Executive Director of the initiative.
By leveraging Houston's expertise to accelerate global solutions for a low-carbon future, the city could gain 560,000 jobs, based on the analysis.
Hydrogen Technology Expo Europe will take place on October 19 and 20, following last year's successful launch in Bremen, Germany.