16 Aug 2022
Hydrogen Technology Expo Europe's Conference Agenda Goes Live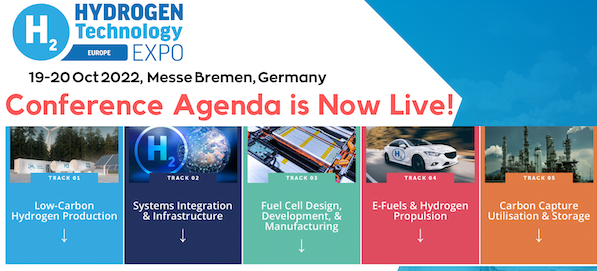 Hydrogen Technology Expo Europe's one-of-a kind conference agenda is now live, spanning over five tracks. The event, taking place in Messe Bremen, Germany on 19-20 October is co-located with Carbon Capture Technology Expo Europe and will feature both hydrogen and carbon capture presentations.
Jam-packed with technical and business presentations, the conference also examines hydrogen and carbon capture policies within Germany and offers a global perspective.
Interested individuals can seamlessly navigate through the different tracks on the website to view a breakdown of each day's presentations.
Day one will see Kawasaki Gas Turbine Europe's Hydrogen Product Manager Dr. Nurettin Tekin describe Kawasaki Heavy Industries' use of innovative technologies for each link of the hydrogen supply chain under track 2, Systems Integration & Infrastructure Track.
Leigh Deissenroth, Hyundai Motor Europe Senior Engineer Powertrain System Development Senior Engineer will offer a comparison between fuel cell and hydrogen internal combustion engines (ICE) based on results from H2-ICE investigations.
Also on day one, EFuels Alliance Managing Director Ralf Diemer will be joined by NOW GMBH Head of Division Hydrogen to discuss The Future of Hydrogen and E-Fuels under track 4, E-Fuels and Hydrogen Propulsion.
On day 2 Shculer Group's New Business Development E-Mobility Dr. Hermann Uchtmann and Thyssenkrupp's Head of Sales Fuel Cell Assembly &Testing will host a discussion titled Plant Technology to Manufacture Fuel Cells and Electrolysers on Large Scale under track 3, Fuel Cell Design, Development & Manufacturing.
To view the full agenda, visit https://www.hydrogen-worldexpo.com/2022-conference-agenda/
Purchasing a conference pass gives you access to all five conference tracks, the exhibition hall, and all post-event proceedings. Don't miss out! Book early to benefit from early bird registration discount.