21 Jun 2022
Hydrogen East Proposes Core Electrolyser Projects in the East of England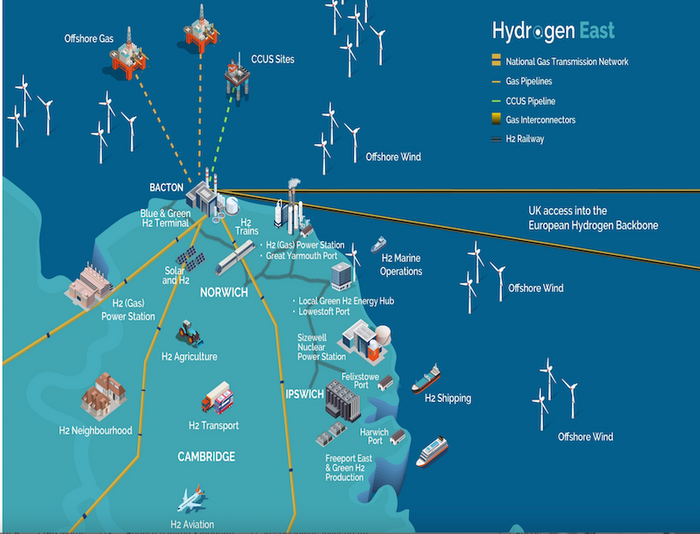 Hydrogen East, a new body bringing together stakeholders on hydrogen in the East of England, has proposed six core electrolyser sites across Norfolk and Suffolk in a "first-of-its-kind" hydrogen cluster.
Hydrogen East look to lead the development of a clean hydrogen cluster in the East of England, strengthening the foundation of a region that is primed for the development of diverse hydrogen projects. Initially, the proposal outlines six "core" electrolyser sites across Norfolk and Suffolk, paving the way for development and improvement in infrastructure.
The region aspires to become the UK's Clean Growth Region, as originally outlined in the Local Industrial Strategy. Energy giants, including ScottishPower Renewables and Vattenfall, have already received the go ahead for projects in the offshore wind sector as well as new nuclear being developed by EDF at Sizewell C. All projects are set to bring a magnitude of opportunities, investment, and further energy integration to the region.
Nigel Cornwall, Director for Hydrogen East, said: "Hydrogen is such a versatile element and, with the ability to be deployed across a variety of sectors, we should be looking to it as a powerful tool that can aid us in the transition to Net Zero."
Andy Holyland, General Manager for Hydrogen East, explained, "the East of England has always been a key contributor in delivering the nation's energy requirements and the integration of hydrogen will only further bolster this position, providing energy flexibility and security.
"Through the development of a hydrogen cluster, we can create touchpoints with a variety of different sectors, supply-chains, and organisation types, ensuring the East of England leads the way and doesn't accept the prospect of being an adopter of second or third generation technology and assets" he said.
Image courtesy of Hydrogen East