06 Mar 2023
Honda's Stationary Fuel Cell Provides Backup Power to Its Data Center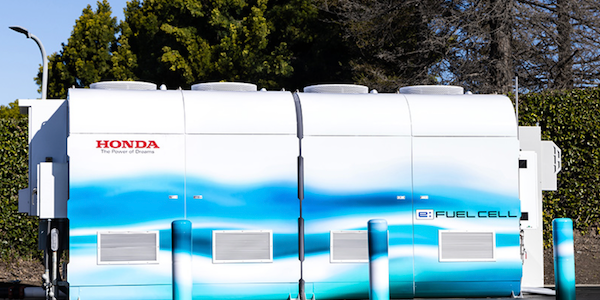 Honda began operating a stationary fuel cell power station on its corporate campus in Torrance, California, providing backup power to the data centre on the campus of American Honda Motor Co.
The demonstration stationary fuel cell unit has a capacity of approximately 500kW and reuses the fuel cell systems of previously leased Honda Clarity Fuel Cell vehicles, with a design that allows the output to increase every 250kW packaged with four fuel cells.
It features the flexibility to change the layout of the fuel cell units to suit the installation environment and to accommodate cubic, L-shaped, Z-shaped, and other packaging configurations. Future stationary FC units intended for commercialization will utilize Honda's next-generation FC system jointly developed with General Motors and also set to power an all-new fuel cell electric vehicle (FCEV) based on the Honda CR-V coming in 2024.
Over the last few years, the power requirements of data centers have been growing rapidly due to the expansion of cloud computing and big data utilization, and the need for backup power sources has been increasing from the perspective of business continuity planning (BCP). The Torrance fuel cell station also serves as a proof of concept for future commercialization of the power generation unit.
"We believe there's great promise in hydrogen fuel cells for backup power and offsetting potential peak power events," said Koji Moriyama, project lead of the stationary fuel cell and principal engineer with American Honda R&D Business Unit.
"By installing and utilizing our core technology, the fuel cell system, in various applications such as stationary power generation, Honda aims to stimulate hydrogen usage and provide clean energy for potential commercial customers."
Source: Honda