25 Apr 2023
German Energy Giants Collaborate for a Sea-to-Inland Hydrogen Pathway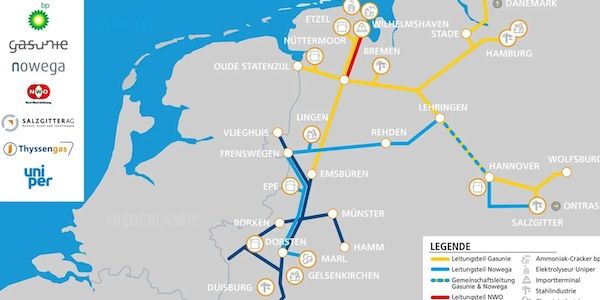 A consortium of seven prominent energy companies in Germany announced a groundbreaking alliance aimed at establishing a sea-to-inland hydrogen route for green hydrogen production and distribution. The coalition, comprised of the German subsidiaries of bp and Gasunie, as well as Nowega, NWO, Salzgitter, Thyssengas, and Uniper, seeks to accelerate the country's hydrogen production goals and drive innovation in the renewable energy sector.
With Germany's ambitious target of achieving 10 gigawatts of green hydrogen capacity from solar and wind power by 2030, the alliance's focus will be on utilizing Wilhelmshaven, the nation's sole deep-sea port on the North Sea, as a hub for hydrogen import and production. The consortium plans to leverage existing natural gas pipelines or construct new hydrogen pipelines to transport the green hydrogen from Wilhelmshaven to industrial consumption centers in North Rhine-Westphalia and Lower Saxony, as outlined in a joint news release.
The individual roles within the alliance have been defined, with each member company contributing its expertise along the hydrogen value chain. This includes commodities production, storage, shipping, marketing, and local crude steel production, covering diverse aspects of the hydrogen ecosystem. The aim of the consortium is to create a robust network that bridges the gap between hydrogen production and industrial demand in key sectors such as steelmaking and cement production.
Several member companies have also submitted funding applications for support from the European Commission for various projects. Uniper and bp are awaiting a decision on funding for ammonia imports as a carrier substance for green hydrogen, as well as offshore wind-based green hydrogen production. Gasunie and Thyssengas have applied for EU funding for a planned 400-kilometer hydrogen link from Wilhelmshaven to the chemical industry region around Cologne by 2028. NWO and Nowega are set to contribute parts of their existing oil and gas pipeline grids to facilitate the hydrogen transportation.
This alliance comes as part of Germany's broader strategy to transition to a more sustainable and low-carbon economy, with green hydrogen playing a crucial role in decarbonizing key industrial sectors. The formation of this consortium marks a significant milestone in the country's pursuit of hydrogen production and innovation, positioning Germany at the forefront of the global hydrogen economy.