16 Mar 2023
FirstElement Fuel Partners with Hyundai Motor on Hydrogen Refueling of Class 8 Fuel Cell Electric Trucks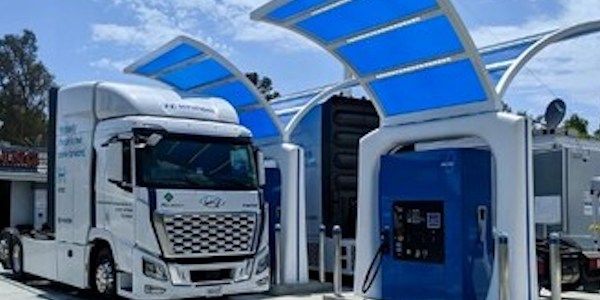 California-based FirstElement Fuel, a provider of hydrogen fueling solutions, and automotive giant Hyundai Motor Company, a developer of Class 8 Fuel Cell Electric Truck, have partnered to fuel and test Hyundai Motor's XCIENT Fuel Cell Heavy Duty trucks in California. Through this partnership, FirstElement Fuel is leveraging its True Zero network of hydrogen refuelling stations to fuel three XCIENT Fuel Cell prototypes at full 700 bar pressure.
In addition, FirstElement Fuel is deploying its first-of-its-kind high-capacity mobile refueler, which was developed in a collaboration between FirstElement Fuel, Taylor-Wharton, and Nikkiso. The mobile refueler, which is capable of high-capacity fueling at 125 kilograms per hour, is being used to support pilot programs for several other Heavy Duty FCEV OEMs as well.
FirstElement Fuel's Class A licensed drivers are piloting three Hyundai Motor's XCIENT Fuel Cell trucks on routes throughout California, covering over 25,000 miles with zero emissions. FirstElement has performed over 120 hydrogen fills for the XCIENT Fuel Cell trucks as part of this program. FirstElement is unique in offering the largest network of hydrogen stations in the world that are supplied by Liquid Hydrogen instead of gaseous. Liquid hydrogen distribution and storage is far more efficient, enabling the large quantities of hydrogen required to efficiently fuel Class 8 Fuel Cell Electric trucks.
Later this year, FirstElement Fuel and Hyundai Motor will launch the world's largest commercial deployment of Class 8 hydrogen-powered fuel cell trucks in Oakland, California The project, titled NorCAL ZERO was jointly funded by the California Energy Commission (CEC) and the California Air Resources Board (CARB) and is being managed by the Center for Transportation and the Environment (CTE).
The hydrogen refuelling partnership between FirstElement Fuel and Hyundai Motor is providing valuable data and learnings which are helping inform design considerations for the NorCal ZERO project. FirstElement Fuel considers the fueling partnership with Hyundai Motor a very successful step towards the overall goal of advancing hydrogen as a replacement for fossil fuels.
Press release by FirstElement Fuel