06 Sep 2022
BAM Introduces First Construction Machine with Hydrogen Combustion Engine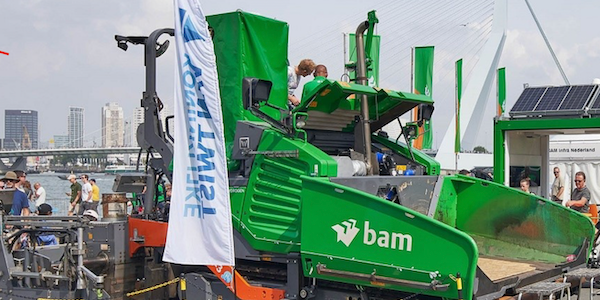 BAM, a construction company, in collaboration with Koninklijke van Twist, a supplier of energy systems, announced on 6 Sept that they have succeeded in converting a diesel-powered asphalt spreader into a machine that runs on a hydrogen combustion engine.The hydrogen tank can be refilled in 10 to 15 minutes.
The hydrogen-powered asphalt paver is the first of its kind in the Dutch construction industry and can save around 150 litres of diesel per eight-hour working day. This equates to a reduction of more than 80,420 kg of CO2 per annum, with no nitrogen oxide emissions.
Bam and Van Twist opted for a hydrogen combustion engine instead of a fuel cell system as the former is also suitable for low-quality hydrogen. This saves on costs during the production of hydrogen and allows the use of residual flows of hydrogen as fuels.
Sustainability is one of the central themes in BAM's strategy. With this new machine, BAM Infra Nederland will contribute to reducing nitrogen emissions in the Netherlands. BAM is continuously looking for opportunities for a positive environmental impact.
Amsterdam, Netherlands-february 2, 2017: Letters BAM on a container bam is a construction company